Body Beast Has Arrived!!!!!!

Body Beast is another 1st for Beachbody.  They have been on fire lately, cranking out their first barbell focused program, Les Mills Pump, their first Tai Chi/Qi Gong program, Tai Cheng, and now their first program dedicated to mass gain, Body Beast.
What Is Body Beast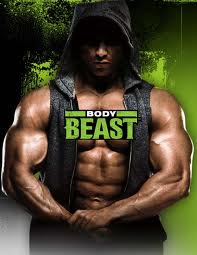 When most people think about Beachbody, they think about losing weight and getting lean.  Body Beast goes a different direction.  This program is about building mass, but also remaining lean.  You will put on weight, but it will be muscle, not fat.  As hard as it is for many people to believe, some of us have trouble gaining weight.  I have always been one of those people.  "You can have some of mine" is a common comment that I get from people.  If it were only that easy.  Building mass takes hard work.  Body Beast is the tool to get you there!
Who Is Behind Body Beast
If you know anything about Team Beachbody, you know that they only work with the best.  When they created P90X and P90X2, they got Tony Horton.  They work with Chelene Johnson, Debbie Diebers, Shaun T, and now, they have partnered up with Sagi Kalev to create Body Beast.
There are a lot of programs out there that claim they will help you gain mass.   99% of them are just calorie packed, over priced nutrition products.  Body Beast is an actual workout program designed to help you build mass, without super expensive gym equipment, over priced, and sometime harmful supplements, and of course, without using steroids.
What Do You Get With Body Beast?
The details about what is included with the Body Beast program are still top secret.  I can show you a little preview though!

What Comes With Body Beast?
Body Beast is PACKED with quality!
12 Incredible Workouts
The Book Of Beast
The "How To Eat Like A Beast" Nutrition Guide
90 Day Workout Calender
Body Beast BONUS
If you order Body Beast from this page, you will receive a FREE BONUS WORKOUT!  Valued at $19.95, the Lucky 7 workout is yours at no cost when you Order Body Beast Here
Who Is Body Beast For?

There are 3 body types out there.  Ectomorphs, mesomorphs, and ectomorphs.  What are they, and why do you care?
Endomorphs – People that are naturally heavy.  They have slower metabolisms, and often find it very difficult to lose weight.  Endomorphs should focus on programs designed for weight loss, such as Turbo Fire or Les Mills Pump.
Mesomorphs – Everyone wants to be a mesomorph.  These people are naturally musclular.  They may loook like they spend hours a day in the gym, but they do not even need to workout to get that look.  Obviously, they can get into even better shape by working out, but even without it, they are built.
Ectomorphs – This is me!  Ectomorphs are typically tall, lengthy, and have trouble gaining weight.  These are the people that will benefit the most from Body Beast.
Most people are a mix of 2 different body types.  They are are either an ecto-meso, or an endo-meso.  How do you know if Body Beast is for you?  Whether you are an ectomorph, an ecto-meso, or even a mesomorph, if you want to increase your size, than Body Beast is for you!
Body Beast Equipment
Whenever you are ordering a workout program, it is important to have the right equipment.  Sticking with Beachbody's tradition, they have created Body Beast to be done with minimal equipment.