Team Beachbody Opens In Canada
If you are a Canadian, and you love Beachbody, GET PUMPED! Now, YOU can become a coach! This is a brand new opportunity, which means INCREDIBLE potential.
How To Become A Team Beachbody Coach In Canada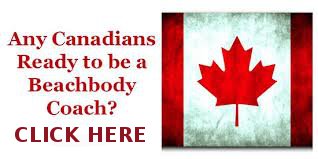 The actual process to become a coach is very simple. Just CLICK HERE, and take about 10 minutes to get signed up. Once you are done, you are officially a coach. More than just a coach, you are one of The 1st Canadian Team Beachbody Coaches! OK, the sign up process is easy, great! But what do you do after that? After all, there is more to being a coach than just signing up, right? Absolutely, and Beachbody has an amazing system in place to help you succeed. Everything from "How To" guides, web tools, banners, 3 personal websites, and more! All of this is included in your coach membership.
In addition to the training that Beachbody gives you, when you sign up as a coach on this page, you get me as your sponsor coach. That means that you also get my additional training. I take what Beachbody gives you, and then I throw in my own knowledge about marketing online. I will help you start utilizing attraction marketing, which is getting the customers to COME TO YOU! How do you know I can do that? Well, the fact that you are reading this right now is proof! So, let me show you How To Become A Team Beachbody Coach In Canada!
What Do Canadian Beachbody Coaches Do?
As a coach, you can promote all of the incredible Beachbody programs and products, and make extra money doing it. How much? To simplify things, I tell coaches to worry about 2 things in terms of how much money you make. The 25% commission that you make on personal sales. If anybody orders a program or product through you, whether it is P90X, Insanity, Les Mills Pump, Shakeology, whatever it is, you earn a 25% commission. Some people only focus on this aspect of the business, and that is fine. Some people want to remove the network marketing aspect of the business, and just focus on their own sales. I personally do not only focus on that, and here is why. Yes, the 25% commissions are great, but it limits your potential. By building a team of coaches, you can not only help more people get into the best shape of their lives, but you can make more money. Being one of the 1st Team Beachbody Coaches In Canada, you have the potential to build an extremely large team, and do so quickly.
Team Volume Bonuses. This is where building a team comes in handy. I will not get into all of the details of how it works, but understand that the more coaches that you help, the more money you will all make. You can check out the details in The Coach Compensation Plan.
Simply put, your goal as a coach is to promote the products, and make great commissions doing it.
Why Become A Team Beachbody Coach In Canada?
The Timing – Team Beachody has JUST LAUNCHED in Canada!  This is your chance to be one of

The FIRST Canadian Team Beachbody Coaches!

  Opportunity does not knock like this very often.  When it does, answer the door and RUN with it!  
The Trend – Diabetes, obesity, heart disease, and more are caused by unhealthy lifestyle.  As a coach, YOU can help change that!  Do you know anyone that suffers from a health condition that could be helped by improving their fitness?  What about someone that just wants to feel better about themselves?  As a Beachbody Coach in Canada, you have the opportunity to help them!
The Opportunity – This is an incredible opportunity for you to partner with the leader in health and fitness, and do so for an incredibly low price.  You can actually become a coach for as little as $40!  For what you might spend on a dinner, you can partner with Beachbody, start changing lives, and start building your own fitness based business.  How incredible is that?