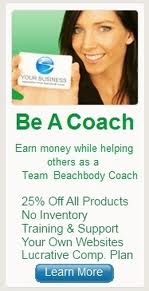 A lot of people are interested in Becoming a Team Beachbody Coach, but there are nervous because they don't know much about running a business.  The goal of this article is to help answer the question you may be having, and clarify what it means/requires to run a Beachbody Coaching Business.
OK, I am going to get the most controversial question out of the way first.  Does it cost money to be a coach?  YES!  For some reason people seem to think it costs nothing to start a business.  Does it cost a lot?  Not at all!  In fact, sell 1 program a month and you will make profit.  Let's take a look at the number.
The Cost of Becoming a Team Beachbody Coach
The Start Up Cost – There are 2 different options that you have for getting started
Basic Sign Up – This is simply signing up HERE.  The cost?  $40
Challenge Packs – Is there a Beachbody program you are interested in?  Have you wanted to try (or are you already drinking) Shakeology?  By starting with a Challenge Pack, you get a huge discount on a program/Shakeology package.  They also waive the $40 sign up fee.  I always recommend starting with a Challenge Pack because of what you save, but both ways are option.  To start with a Challenge Pack, simply select the one that you would like during the sign up process HERE.
Additional Fees – There is a $16/month fee to keep your Beachbody business up and running.  This fee goes towards running your sites, and the Beachbody back office.
So, Let's say you pay $40 to sign up, and than $16 per month.  Oh yea, your first month is included in the $40 start up.  So, let's round up and make it $220 that it costs you to run your business for a year.  *IMPORTANT* – That is all business expenses, which means that you can write it off on your taxes. 

OK, So you know the fees.  You know that they are tax deductible.  So, if you signed up, paid your fees for a year, and did nothing, you would spend about $220, and then write it off on your taxes.  With risk like that, I don't understand why everyone does not Become a Beachbody Coach.  What's next?  Well, you are probably wondering how you make money?
There are multiple ways to make money as a Beachbody Coach.  I am going to focus on the simplest one.  The others come into effect as your business grows.  So, what is the simplest way to make money as a Beachbody Coach?  The answer is retail commissions.  When you refer someone to a Beachbody program, and they buy it through your site, you earn a 25% commission.  CLICK HERE to see what your Beachbody site will look like.  Maybe you will put a post on Facebook talking about a program, and pointing it to your site.  Maybe you will shoot a Youtube video about Beachbody or a program and point it to your site.  Maybe you will hand out business cards with you site.  The goal is to get people to your website.  Personally, tend to point people to this site, as opposed to my site from Beachbody.  It allows me more freedom for what I share, and allows me to do more marketing.  By CLICKING HERE to join my team, you will receive training on how to build a site just like this, if you decide that is something you want to do to build your business.
OK, what else do you need to know about Beachbody?
Well, the 25% discount is a pretty big deal.  You save 25% on P90X, The 21 Day Fix, Les Mills Pump, and the rest of Beachbody's Fitness Program.  Also, you get a 25% Shakeology Discount.
Do I Pay Taxes on my Beachbody Income?
This is a big question.  Let's say you make a Shakeology sale.  You earn a 25% commission, which is about $30.  You receive a check for the exact amount.  At the end of the year, $600 is the magic number.  If you made less than $600, you won't receive any tax papers from Beachbody.  If you make $600 or more, you will receive a 1099, which means that you need to pay taxes.  Remember, all of your business fees are deductible.  If you are using your programs in any way to build your business (writing reviews, talking about them with friends, etc), they are deductible.
When Do I Get Paid, and How Much?
Beachbody pays you weekly.  Every Thursday I have a check deposited into my bank account.  How much?  How much do I get paid?  It varies week to week.  There are coaches who make nothing, and their are coaches who make $10,000+ per week.  One of those $10,000+ per weeks helps the coaches on my team.  Remember, it is your business.  It's success depends on you.  There are people there to help you, but in the end, you are responsible for whether or not your business succeeds or fails.

How to Sponsor Beachbody Coaches
While some people decide to just make retail sales, most people that become Beachbody Coaches do it with the intent of building a team.  Earlier I mentioned your websites that Beachbody gives you when you join.  Signing up coaches works the same way as selling a product.  Your goal is to get people to sign up through your site.  If they do, they are on your team.  *IMPORTANT* You do NOT get paid just to sign up coaches.  You earn money when products are sold.  So, your goal is to help your team sell products and build their business, just like my goal is to help you make money and build your business.
OK, so the goal is to get potential coaches to your website.  How?  The possibilities are endless.  Blogging, social media, videos, articles, press releases, word of mouth, PPC, etc….  Again, by JOINING MY BEACHBODY TEAM HERE, you will receive training on these various techniques.
Do you have any more question?  If so, feel free to Contact Me Here.