Beachbody on Demand is LIVE!!!  Let's look at what you need to know.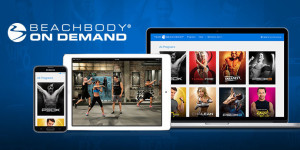 Recently there have been some changes happening in the fitness industry.  Companies were staring to pop up offering streaming workouts.  People pay a weekly, monthly or yearly membership, and they received access to workouts online.  They could use their computer, phone, tablet, whatever has internet.  The problem was that those workouts were not BeachbodY quality.  Thanks to Beachbody on Demand, that has all changed!
How Beachbody in Demand Works
It starts with a Team Beachbody Club Membership.  The cost, $2.99/week.  When you log in to TeamBeachbody.com as a paid member of the Team Beachbody Club, you simply select the 'Beachbody On Demand' tab from the home page, then choose any fitness program in the Member Library, and press play!
What Workouts Can I Access Through Beachbody on Demand?
P90X® & P90X Deluxe
P90X2® & P90X2 Deluxe
P90X3® & P90X3 Deluxe
P90X ONE on ONE® Volume 1
10 Minute Trainer®
INSANITY® & INSANITY Deluxe
INSANITY: THE ASYLUM® Volume 1
TurboFire®
Brazil Butt Lift® & Brazil Butt Lift Deluxe
ChaLEAN Extreme®
Hip Hop Abs®
That's right, you have FULL access to each of them programs.  That includes the workouts and nutrition guides!
More Beachbody on Demand Resources;
Official Beachbody on Demand Teaser Video
Beachbody on Demand Facebook Page