Hey there, Team Beachbody Coach Joe Malone here with a few fitness tips to help you get the results you are looking for.
Less Sleep = More Food
Everyone always says that you need plenty of sleep.  Typically you hear this because your body needs time to heal.  Well, here is another reason.  A recent study published in the journal Sleep (yes, there is a journal called Sleep), showed that not getting enough sleep effected both men and women differently, but neither result was good if you are trying to lose weight.
Men – They experience a rise in the hormone ghrelin, which creates a rise in hunger stimulation.
Women – They experience a decrease in glucagon, which is a hormone that tells you when you are full.
In both cases, the end result is going to be you eating more food.  Aim for 7-8 hours of sleep each night and you should be fine!
Working Out To Fight Anxiety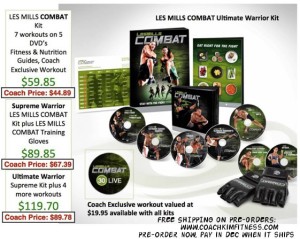 When a lot of people get anxious, they reach for some junk food.  If this is you, STOP!  Medicine & Science in Sports & Exercise recently published a study finding that after a workout, people scored lower on an anxiety test.  When tested 30 minutes after the workout, they were still calmer.  The reason is that working out increases blood flow to the brain, particularly the part that keeps you calm.  So, next time  you feel your anxiety rising, workout, don't pig out!
Personally, I love a good boxing or martial arts program.  Beachbody has released a
Les Mills Body Combat DVD
program called Les Mills Combat.  The program starts at $60, and mixes 6 different styles of martial arts.  It is a lot of fun, you will work up a nice sweat, and throwing punches, kicks, elbows and knees is a great way to work out that anxiety.  You can also check out more fitness programs
HERE
.
Something Is Better Than Nothing
This is one of my favorite, simple, straight to the point tips.  Lots of people use "I don't have time" as an excuse not to workout.  If this is you,
CLICK HERE
to be guilted out of that thought process.  Anyways, here is how it works.  Every little bit counts.  Anybody that tells you otherwise doesn't know what they are talking about.  No, you are not going to get your ream body by simply taking the stairs instead of the elevator.  You will get results though.  Can you clear up 10 minutes a day to get REAL results?