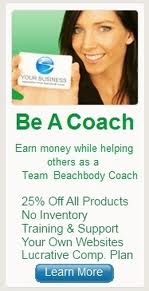 Before I get into these reasons, let me make something very clear.
You DO NOT need to be a fitness professional to Become a Team Beachbody Coach
You DO NOT need to be a nutritionist to become a Beachbody Coach
You DO NOT need to be in shape to become a coach
What do you need?  You need to be 18 or older, live in the US or Canada and be motivated!  OK, with that being said, here are 5 reasons that YOU, yes YOU, should become a Team Beachbody Coach.  *IMPORTANT* – To ensure that you receive our special team trainings, which will help you succeed as a coach, be sure to sign up as a coach through one of the links on this page.
OK, Here are 5 Reasons To Become a Beachbody Coach
 Business Ownership –  When you join our team, you are NOT an employee.  You are an independent Team Beachbody Coach.  You own your own business.  You make your hours.  You do as much or as little as your want (which will obviously effect your success).  For more information about the business/tax aspect of Beachbody, read Understanding The Business of Being a Beachbody Coach.
Brand Awareness – You are not working with little programs that nobody has ever heard of.  Beachbody has created the top fitness programs in the world.  I have people approach me on a regular bases, since people know I am a coach, and ask me how they can get certain programs.  What do I do?  Simply point them to my site.  They go there, buy it, I get paid!
People Helping People – When you sign up as a Beachbody Coach HERE, you are not on your own.  You have a team of coaches, along with Beachbody itself, dedicated to helping you succeed.  When you sign up through this page, I am your personally sponsoring coach.  That means that I am going to do everything I can to help you succeed.  I don't make anything for signing you up as a coach.  I only make money from you being on my team if you are making money.  That means that I am going to teach you everything I know about making money with Beachbody.  You also have the coaches that have helped me there to help you.
25% – First off, you get a 25% discount on Beachbody programs and a 25% Shakeology Discount.  That is a BIG savings.  You also receive a 25% commission on all of you personal sales.  That DOES NOT mean you need to go around talking people into buying programs, collect the money, order the program, and deliver it to them when it comes in.  Remember what I mentioned earlier?  They go to your site (you get 3 sites as a Beachbody Coach), they order, you get paid.  There are more bonuses and incentives, but the 25% discount and retail commission is where it all begins.
Affordability – Have you ever looked into starting your own business?  It is EXPENSIVE!  Well, not so much with Beachbody.  There ae a few options for getting started.  First, you can simply CLICK HERE and sign up.  The basic start up cost is $40.  What do you get for that?  You get the 3 websites, your back office, which tracks your sales, commissions, provides training, etc.  Think of your back office as the most affordable assistant/secretary/accountant ever.  You also receive start up specific training to help you make your business profitable quickly.  The only other expense is $16/month to keep your websites and back office running.  Again, if you know anything about running a business, that is super cheap.  Sell one bag of Shakeology per month and you are already making profit.  The other method to sign up is to select a Challenge Pack in the sign up process HERE.  You select a program and flavor of Shakeology, get them at a crazy discount, and the $40 is waived.  It seems like a no brainer to me, but you do not need to select this method.

I could keep going and make this list a longer than 5 reasons.  These are some of the big ones.  The truth is that if you are interested in making some extra money, and like Beachbody's programs, I don't really understand why you wouldn't become a coach.  As always, I am happy to answer any questions.  Just >>CONTACT ME HERE<<  If you are ready to get started as a coach, CLICK HERE and join the team today!