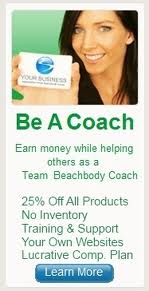 This is a busy time of year.  The holidays are coming, and  it is easy to come up with reasons why you are too busy to do something new, like become a Team Beachbody coach.  Here are 3 reasons that this is actually the perfect time for you, yes YOU, to become a coach.  Once you decide, commit, and I will help you start building YOUR Team Beachbody business.  This is a great opportunity, so take 5 minutes and learn more about becoming a coach below.
The holidays are coming! – While some people use that as an excuse, let it be your reason.  Think about it.  Christmas is coming up, and people are spending money.  A TON of people buy fitness programs for Christmas.  Why not have them buy from you so that YOU can make the 25% commission!  Wouldn't some extra cash make the holidays just a little less stressful?                                                                                               
What comes after Christmas?  NEW YEARS, and that means New Years resolutions!  People are looking to start burning off the holiday weight, and many are setting their goals for summer 2016. YOU can help them get there, and you DO NOT need to be a fitness expert, nutritionist, or even in shape.  You just need to have the desire to get fit, and to share that passion with others.                                           
NEW PROGRAMS!!! – Beachbody is launching 2 new programs soon.  The Hammer and Chisel, which is brought to you by Sagi Kalev and Autumn Calabrese, along with 22 Minute Hard Corps, Toy Horton's newest program!  New programs means what???  Lots of new sales!!!  If you are a coach, that means more opportunities for you to make some extra money!
You may have some questions.  How do I get started?  What does a Beachbody Coach do?  How do I make money?  CLICK HERE to have all of those questions and more answered!  You can be a coach in the next 15 minutes!