10 Reasons to Try Vegan Shakeology®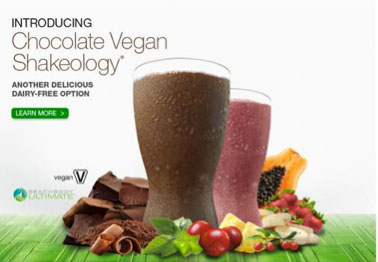 1. It's like your own personal cheat sheet. Get the benefits of a vegan diet without fully going vegan or even trying! The health benefits of a plant-based diet are well documented—from lower cholesterol and lower risk for heart disease, cancer, and diabetes, to easier weight management and fewer digestive issues. But you don't have to follow a 100% vegan diet to enjoy some of these health benefits. One vegan meal a day will put you well on your way to a healthier you!
2. No animals allowed. Chocolate Vegan Shakeology is a completely plant-based formula with NO animal products. Give your system a break from heavy animal proteins by replacing one meal a day with Chocolate Vegan Shakeology®.
3. Superfoods to the rescue! Chocolate Vegan includes 5 new superfoods: moringa, coconut flower nectar, luo han guo, Himalayan salt, and konjac root. All of the key nutrients come from natural whole foods. There are no added vitamin or mineral isolates and no fortification.
4. Try all-natural chocolate for the first time. Ever wonder what cacao tastes like right out of the pod from the cacao tree? This shake is the way nature intended chocolate to taste. It's rich, earthy chocolate taste is derived solely from whole-food ingredients with no additional flavoring agents.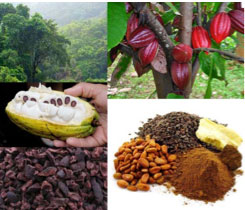 5. It's FREE . . . lactose free and dairy free that is! If you're lactose intolerant or have trouble digesting whey protein, then this is the shake for you. Most people have trouble digesting dairy, whey protein, or animal proteins and don't even know it—until they try a plant-based protein meal and they just feel the difference!
6. Fructose is a thing of the past. It takes all kinds of sugars to make the sweet world go round, but there are a lot of fructose haters out there. Chocolate Vegan is made with coconut flower nectar and luo han guo—two whole-food superfoods that are so naturally sweet, there's no need to add fructose! We won't get into the pros and cons of fructose, but suffice it to say that if you're anti-fructose, then Chocolate Vegan or Tropical Strawberry are for you!
7. Protein PACKED. One of the first questions vegans get is "Where do you get your protein from?" Well, plants have protein in them too! And so does vegan Shakeology. 16 grams in fact. Chocolate Vegan and Tropical Strawberry are crafted from an easy-to-assimilate blend of whole, plant-based proteins including sprouted brown rice, pea, sacha inchi, chia, flax, quinoa, amaranth, and spirulina. Not only do they offer 9 essential amino acids, but together they are a complete protein source with sufficiently high levels of lysine and methionine, two important amino acids that are often a limiting factor in plant-based diets.
8. Kiss cravings goodbye. The new ingredient konjac root, in both Chocolate Vegan and Tropical Strawberry Shakeology, will help your cravings disappear! The fiber in this new wonder-food absorbs up to 200 times its weight in water, making you feel fuller, longer. No wonder places like Japan and China have been using it for centuries! Other perks include: help with regularity and healthy blood sugar and cholesterol levels.
9. Take a bite out of the "Tree of Life." Chocolate Vegan's new ingredient moringa is called the "Tree of Life," because it is one of nature's most nutritious foods. This superfood contains 90 nutrients and 46 antioxidants along with ALL of the essential amino acids. Plus, according to some studies, moringa can help boost energy, lead to faster recovery, and balance out blood sugar levels.
10. It's got the stamp of approval. Chocolate Vegan Shakeology is another addition to the Beachbody Ultimate™ line—a collection of the highest-quality products Beachbody has to offer. We are committed to putting the most perfect whole-food ingredients at your fingertips so you can operate at your highest level of nutrition, health, and well-being