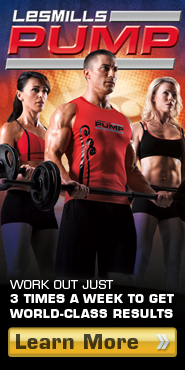 If you are a fan of Les Mills, you are going to love Pump!  This is Beachbody's Les Mills Body Pump DVD Program, and it is insane!  What is it about the Body Pump classes that people love?
The Workout (obviously) – The workouts are intense, and they deliver results.
The Music – Body Pump classes always have awesome music.  It is great for getting people motivated, and helping them push through the workouts.
The Trainers – A good trainer can be the difference between you finishing a workout and not.  They will keep you motivated, and teach you the proper form to keep you safe during your workouts.
Les Mills Pump has ALL of those things.  You are getting the same workouts that you would get in the gym, they have amazing music, and the trainers are Les Mills Certified.  In addition, this program has some huge advantages over the classes at the gym.
With the Les Mills Body Pump DVD program, you can put in the workout whenever you want.  You don't need to worry about what time they are offered at the gym, and how you can rearrange your day to make it.  You workout when it is the best time for you!
You don't need to travel to get the the class.  You living room is your gym.  Everything that you need for the workout comes with the program, even the weights.  Get dressed, pop in the DVD and get to work.
What Comes With Beachbody's Les Mills Body Pump DVD Set?
Les Mills Pump has everything that you need to transform your body into the lean, tone, sexy body that you have always dreamed of.
7 intense workouts that will scorch your fat.
Barbell – This is not an ordinary barbell.  This one is padded, and can be taken apart for easy storage or travel.
Weights – 2 5 lb and 2 10 lb weights are included with the program
Safety Clips – These clips are designed to help you change weights quickly, and keep your heart rate pumping hard during your workouts.
Fitness Guide – The Lean, String and Unstoppable fitness guide will help ensure that you are getting the most out of your workouts.
Nutrition Guide – The Get Lean Nutrition Guide is a great companion for the Les Mills Body Pump DVD program.  If you want serious results, you need to know what to eat.
Tape Measure and Tracker – Tracking your progress is extremely important when you are following a workout plan.  Seeing that what you are doing is working is great motivation
And MORE!!!
Where Can I Buy Les Mills Pump?
Beachbody's Les Mills Pump is not available in stores.  It must be purchased through a Team Beachbody Coach (like me).  So, if you are ready to get into the best shape of your life, CLICK HERE To Order Les Mills Pump!