The Les Mills Body Combat DVD Is Now Available!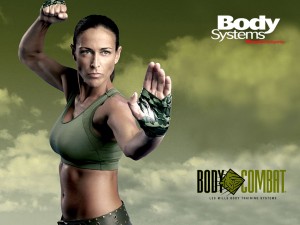 If you like Les Mills Body Combat, You will love this!  After the incredible success of Les Mills Pump, the DVD program based on Body Pump, Beachbody and Les Mills decided to create another program.
JUST RELEASED – check out this incredible, butt kicking, calorie burning, fat melting workouts, right in the comfort of your own home.  This is  an INSANE program!  The 6 forms of martial arts that they included in the Combat DVD program will have your fat running the other direction!.
Les Mills Combat Preview!
And that was just one of the Les Mills Combat Workouts!

The Les Mills Body Combat DVD
What is included?
This system includes 7 workout designed to get you shredded.
Les Mills Combat – The Basics:  This is where you learn the different moves (strikes, guards and stances) that you will be using throughout the Les Mills Body Combat DVD program.
Combat 30 – Kick Start:  This workout is simple in terms of it's complexity, but not in terms of it's intensity.
Les Mills Combat 45 – Power Kata:  This workout combines speed and power work with cross-training, to deliver incredible results.
Combat 60 – Extreme Cardio Fighter:  This is a super intense high rep workout that is going to have your muscles burning (in a good way)
60 Live – Ultimate Warriors Workout:  I think the name says it all with this one.
Les Mills Body Combat – Power HIIT 1:  If you are not familiar with high intensity interval training, be prepared.  You are in for an insane experience!
Les Mills Combat – Shock Plyo HIIT 2: This is a chance for you to push your body beyond simple fat burning, and really increase your athletic ability.
Plus Much More!
Beachbody delivers quality with every program, no exceptions!
Where Can I Order The Body Combat DVD?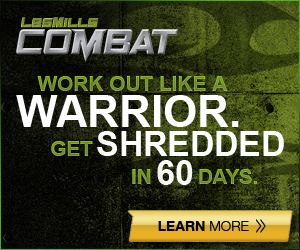 Les Mills Combat is NOW AVAILABLE!  Beachbody sent out the first batches at the beginning of December, and they should be arriving shortly.  If you are serious about getting into the best shape of your life, this program is worth checking out.  It is actually one of Beachbody lowest priced programs.  Don't let that fool you.  It does not mean it is not intense, or does not work.  Combat is based on the Les Mills Body Combat classes that are taught all over the world.  These workouts deliver incredible results, and they are FUN!  A lot of people have trouble sticking with workout programs because they get bored with them.  With Les Mills Combat, you don't need to worry about that.  You will be working hard, but having a great time doing it!
How Much Is The Les Mills Body Combat DVD Program?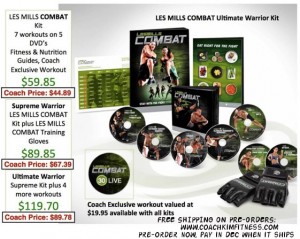 Beachbody has really outdone themselves on this one.  They have created 3 different price points, depending on how serious you are about getting fit.  On top of those 3 different price points for customers, there is the 25% discount if you CLICK HERE to become a coach.
The Body Combat DVD Program is insane.  Why wouldn't it be though? Especially after seeing the success that the Les Mills Body Pump DVD had!  If you are a Les Mills fan, or if you are just ready for something different to spice up your workout routine, and take your results to the next level, this program is absolutely worth checking out!
Do you remember the 7 workouts that I listed above?  That is not all that comes with this program!  Let's take a closer look at what you get.
What Comes With Les Mills Combat?
LES MILLS COMBAT combines utilizes 6 martial arts disciplines and explosive moves to help trigger lean muscle development, while melting off the fat. The 7 high-energy workouts included in the Les Mills Body Combat DVD program will have you revealing your strong, chiseled inner warrior!
Here's what you'll get with the LES MILLS COMBAT DVD Program:
7 INCREDIBLE body-shredding workouts:
LES MILLS COMBAT –  THE BASICS.  This is where you will learn the techniques and mixed martial arts moves, for the program.  This includes strikes, guards, and stances.
LES MILLS COMBAT 30 – KICK START.  You are still learning the skills, but you want to start getting results.  This workout is perfect for that!  A low-complexity, high-intensity workout.  This is where you start putting the LES MILLS COMBAT moves into combinations.
LES MILLS COMBAT 45 – POWER KATA. This workout will scorch the fat, by combines speed and power with cross-training.
LES MILLS COMBAT 60 – EXTREME CARDIO FIGHTER. This workout will test your endurance. It is a high-repetition workout, and it will have your muscles firing on all cylinders.
LES MILLS COMBAT 60 LIVE: ULTIMATE WARRIOR'S WORKOUT. The easiest way to describe this one is that it is a total body workout.  You will be happy it is a part of the

Les Mills Body Combat DVD Program

!
LES MILLS COMBAT – POWER HIIT 1. High Intensity Interval Training (HIIT).  This workout focuses on short bursts of maximum effort, followed by recovery.  This will push you into muscle-conditioning overload!
LES MILLS COMBAT – SHOCK PLYO HIIT 2. This workout is going to improve your athletic power and endurance, and push your body into peak performance mode.
Plus, get incredible tools to go with your Body Combat DVDs:
STAY WITH THE FIGHT FITNESS GUIDE. This 60 day calendar will be extremely helpful with achieving your fitness goals.  It also ncludes training tips to maximize results.
EAT RIGHT FOR THE FIGHT NUTRITION GUIDE. It doesn't matter how hard you work if you are not eating right.  This is a detailed eating plan that kicks off your body's ability to start burning fat, while keeping blood sugar constant, which helps you control your appetite.
TAPE MEASURE AND MEASUREMENT TRACKER. This is perfect your tracking your success.  Keep track as you develop your warrior physique  through all 60 days of the program.
Order The Les Mills Body Combat DVD Now And Get 2 FREE bonuses:
LES MILLS COMBAT 30: LIVE. This is a high-voltage class that was shot live in the UK!  It is designed to carve leaner upper body, while delivering explosive leg training.  It is also a great high-intensity cardio workout to kick-start your metabolism.
ONLINE SUPPORT. Get FREE access to fitness experts, peer support, and extra motivation.