With the overload of magazines, infomercials, weight loss shows, and more, it is tough to separate the facts from the hype.  When it comes to weight loss, there are some simply rules to keep in mind.
Rules For Weight Loss 
1 – Anything Is Better Than Nothing.  This is especially true when you are first getting started.  If you can't go for a run, go for a walk.  You wanted to do an hour workout, but you woke up late.  Just do a shorter workout.  People often make excuses to get out of their workouts.  "I woke up late, so I can't get in the full workout, and I'm not gonna waste my time with a short one."  NO, do the short one.
This is also true for nutrition.  You do not need to dgo from what you are used to eating to being a complete health nut.  Take little steps.  Cut back, or stop drinking soda.  Switch to whole grain and whole wheat products.  Drink water!!  A great way to simplify your nutrition is with a supplement.  I'll tell you right now, most of them are garbage!  If you want to make your life easier, and simplify your nutrition, check our Shakology.
2 – Variety Is The Spice Of Life.
I love when I read articles saying that cardio is the only way to lose weight.  FALSE!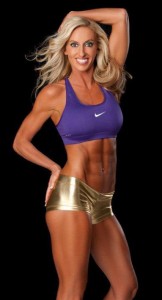 Yes, cardio is a great tool in the weight loss process, and it will help improve your cardiovascular and cardio-respiratory health.  Strength training is also a huge part of effective weight loss.  Strength training burns fat, while also building muscle.  Ladies, this does NOT mean that you are going to start looking like a body builder.  Do you want to see some proof?  The picture on the left is Monica.  She is becoming more popular by the day, thanks to P90X2.  She is one of the stars of the Shoulders and Arms workout.  Guess what, she's also a mother of TWINS!
How is she able to get that fit after twins?  It is about doing more than just cardio.  Personally, my programs are P90X and P90X2.  I have used them, I love the workouts, and they deliver results.  There are other programs out there that will help with weight loss.  There are 2 other programs that you may want to check out for weight loss.  Les Mills Pump, which is a barbell based program, designed for rapid weight loss and toning.  These workouts will have you burning close to 1,000 calories in less than an hour.  Another great program is Turbo Fire.  Turbo Fire is an heart pumping, energy filled program that helps burn up to 9x the amount of calories as typical cardio.
3 – Stay On Track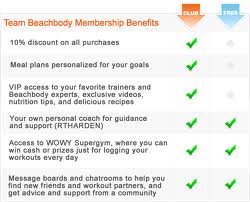 When you are trying to lose weight, it is easy for some people to get side tracked or discouraged, and give up.  There is a very powerful tool to help you stay focused.  That tool is your Team Beachbody Membership.  There are 2 options to pick from.  The first is the Club Membership.  This is just a few dollars a week, and is loaded with incredible tools to help you on your weight loss journey.  There is also a FREE Membership.  While you do not receive all of the same benefits as the club membership (you don't receive the 10% discount on Beachbody products, the customized meal plans, or the VIP access to trainers, extra workouts and more), you do receive access to the WOWY Supergym.  This is where you schedule, and log your workouts, and with each one, you have a shot at cash prizes.  You also get access to the Beachbody message boards.  This is where you can meet other people that are working out.  It is a great way to meet people, and to set up workout groups to help keep you accountable for your workouts.  CLICK HERE to check out the membership options
The thing that most people struggle with when trying to lose weight is motivation.  They have trouble getting started with the workouts, eating right, and staying focused.  What if you could get paid to lose weight?  What if you could inspire others with your weight loss?  You can do that, thanks to the Team Beachbody Coaching Opportunity.  Here is how it works.  As a coach, you are able to promote the Beachbody products.  These include P90X, P90X2, Insanity, Les Mills Pump, Turbo Jam, Turbo Fire, Rev Abs, and the list goes on.  You receive a 25% discount on all of the programs, inlcuding a 25% Shakology Discount.  You also receive a 25% commission on programs that you refer.  OK, so you are probably asking this right now.  "I am not in shape right now, so how am I supposed to promote fitness programs"?  Good question, I'm glad you asked.  You are creating your success story.  As you lose weight, people will ask questions.  That is when you mention the programs, Shakeology, and how they are helping you.  If you are really interested, you can either get signed up HERE, or shoot me an email at joemalone@beachbodycoach.com.