P90X2 Review.  The newest breakthrough in scientifically based workout programs, or an over-hyped waste of money?  You will find out in this P90X2 Review.  For anyone that has ever used a Beachbody fitness program, you know that only release top of the line programs.  They hire the best trainers, are very motivational, and if you stick with them, you get results.  Isn't that what the original P90X did?  Absolutely!  So why make P90X2?
This P90X2 Review is going to look at the facts about the program, and see whether it stands up to the hype.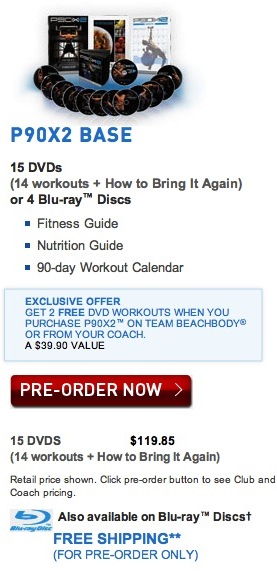 Everyone who has seen a P90X infomercial knows who Tony Horton is.  He is the world famous trainer behind Power 90, P90X, and now P90X2.  For this program, he had some help.  Tony and Beachbody met up with Harvard trained physician Dr. Marcus Elliot.
Have you ever heard the saying, "If it's not broke, don't try to fix it"?  Well, P90X2 isn't fixing the original, it's building on it.  The original program focused on Muscle Confusion, which is still just as effective as it ever was.  There is no fixing that.  They brought something new to the table though.  Post Activation Potentiation, otherwise knows as P.A.P., is where they take the program to the next level.  The best way to describe P.A.P. is as a combination of plyometrics and standard weight lifting.  It is the technique that has been used in training some of the top athletes in the world.  If you take nothing else from this P90X2 review, at least know that this system has a very solid scientific backing.  Years of research and testing went into the development of the program.
P90X2 Review – Things You NEED To Know
Even when you are working out at home, it can still be difficult to to find time to workout.  Well, with P90X2, you are cutting down to 5 days a week, as opposed to 6 with its predecessor.  This is not just so that you can slack for 2 days.  It is because the workouts are at the intensity level where your body needs 2 day to recover.  To be more specific about those 2 days, active recovery is suggested, not laying on the couch eating junk food.
Before you continue, I suggest signing up for a FREE  Beachbody account HERE
Worth The Cost – P90X2 Review

With the original P90X, people would often ask me why it costs $119.  They typically say something along the lines of, "Why would I pay that much for a workout DVD"?
Like other Beachbody products, P90X2 is so much more than a workout DVD.  13 DVDs packed with scientifically backed workouts, an information packed nutrition guide, and a workout calender to chart your progress.  I have seen people spend $20 on a single workout DVD at the store.  You are paying less than $10 each with P90X2, plus getting all of the extra. Order from this page and also receive 2 FREE BONUS workout DVDs.  I think a fair P90X2 Review says that is a great deal.

P90X2 Review – Equipment
One of the things that most people, including myself LOVE about the original P90X is that you needed very little equipment to get an amazing workout.  So, how does P90X2 score in this category?  Well, considering the workouts include a "hotel version", which can be done with nothing more than what you find in a typical hotel room (Great gift for people that travel a lot), my "P90X2 Review" says that it scores pretty high.  Now, if you want to take full advantage of the workouts, you do need more equipment than with the original program.  Add to your arsenal a medicine ball, exercise ball and foam roller and you are ready to go.  In fact, they offer multiple versions of P90X2 that you can order.  The standard comes with the workout program, fitness guide, nutrition guide and workout calender.  Then you have the deluxe and ultimate packages, which include the fitness equipment that will help you get maximum results.   Because they give you the options to do these workouts with little to no equipment, or with a variety of equipment, my P90X2 Review needs to give them an A+
The Conclusion of My P90X2 Review

P90X2 has a strong scientific foundation
It was created by the top fitness company out there, in conjunction with one of the top trainers in the world
The pricing is great
It all adds up.  My P90X Review says GO FOR IT!  The only thing that you need to do is pre-order now, and take advantage of the 2 bonus workouts and the free shipping!