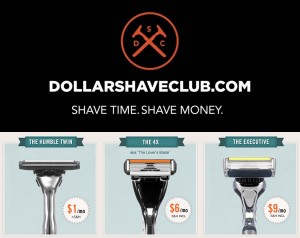 I kept hearing about The Dollar Shave Club, and finally decided that I had to give it a shot.  I have been having trouble finding an affordable razor that actually works for years.  The expensive ones are not only ridiculously priced, but I am not a fan of the 4 and 5 head razors.  They would get clogged constantly.  I tried some single and double blade razors, buy they simply did not work well.  I looked like I was in a knife fight after I was done shaving.
In comes The Dollar Shave Club.
Dollar Shave Club Review
I decided to keep it simple.  I went with the basic, 2 blade razor.  I was expecting the shipping to be expensive, and was pleasantly surprised when it was only $2.  Add that to the $1 for the razor and my order totaled $3.   Not bad, assuming that the razors were decent.  I was not sure what to expect when the package came.  It ended up coming with the handle and 5 razor heads.  That is not bad for $3.  Finally, the moment of truth.  I got to shave with the new razor.  LOVED IT!  I didn't need to constantly unclog the blades, and I wasn't bleeding everywhere like usual after using low cost razors. My Dollar Shave Club Review – This is a NO-BRAINER.
Worst Case Scenario, you spent $3 and don't really like it.  Then, you just end up going back to whatever you are using now.
Best Case Scenario – You end up loving it, save a fortune on your blades, and you have the convenience of having them shipped to your door every month.
Dollar Shave Club 4x Review
Like I mentioned above, I ended up going with the humble twin, the $1 razor.  The 4X is the $6 option, and I have not tried it yet.  However, I did some research and decided to share some Dollar Shave Club 4X Reviews that I found.  The first is from about.com.  Here it is.
"Yes, this is not the best shave I've ever had. With a name like Dollar Shave Club, I really didn't expect it to be. I would certainly recommend trying this one for yourself as it could save you some serious cash in the long run. For the price you would be hard pressed to find a better shave. Heck, even if you don't like the razor, it's a fairly cheap experiment. A decent shave at a great price with blades automatically sent to your door each month? Sounds like a pretty good deal to me. Hard core shave enthusiasts probably won't care for Dollar Shave club, but for the average Joe, this may be a great way to save some dough.  For price alone, I'll add this to my list of top five best razors."
Here is another one I found from Bensbargains.com
My first package arrived via USPS within two days of my order. It included my first four blades, the razor handle, a sample of Dr. Carver's Easy Shave Butter and a welcome card. Right off the bat, I noticed the razor handle has a nice heft to it. It feels more durable than the Fusion ProGlide handle, less apt to breaking. However, it's also a bit tougher to attach and detach blades. You need to apply slightly more pressure in order to swap out blades from week to week.
How's The Shave?
After taking "The Lover's Blade" for a spin around my face, I can state with certainty that the quality of the shave is identical to my Fusion ProGlide. I typically take two passes, one pass with the grain to slice away my dense forest of prickly jaw bristles and a second pass against the grain to remove the rough feel. It didn't require any type of additional work on my part to get the same type of smooth shave and it wasn't painful in the slightest bit.
I've been able to ramp up my volume of shaves during the week, something that I previously avoided in order to make my ProGlide blades last longer. However, I can swap out a new cartridge every 7 to 8 days now.
CLICK HERE TO JOIN THE DOLLAR SHAVE CLUB