Body Pump Equipment For Sale – If you are looking to purchase Body Pump Equipment, you have come to the right place.  Beachbody and Les Mills have partnered up to bring you the ultimate package.  This isn't just Body Pump Equipment for sale. This is a full workout program, which includes the workouts, the weights and more.
Les Mills Pump is the ultimate at home Les Mills Body Pump DVD program.  You get all of the incredible benefits that you get from the Pump classes in the gym, except now you are getting them in the comfort of your own home.  That means that you can workout on YOUR schedule!  No more driving to the gym.  No more needing to rearrange things to make it to a class.  If you want to workout, put in a DVD, grab your Les Mills Smart Bar and weights and get to work.  If you are interested in the whole program, here are some more option.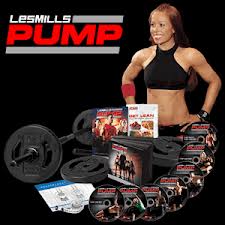 Body Pump Weights and Les Mills Smart Bar
If you have ever taken the class in the gym, you know there is equipment needed for Body Pump.  Les Mills Pump includes it all!  They have created an incredible barbell that actually comes apart to make it easier for storage and travel.  They have also included 2 sets of weights, along with quick safety clips to help you change weights fast, while staying safe.
Learn More About Les Mills Pump Here