Body Beast Discount – Save BIG on Body Beast here!
As with all products from Team Beachbody, Body Beast has 2 different discounts associated with it.  I am going to show you the different Body Beast Discounts, and how you can get them.


Body Beast Discount – 10% Off
The first discount is for Beachbody VIP members.  This is the 10% Body Beast Discount.  It is important to know that there are 2 different Beachbody memberhips, but you only receive the 10% discount with the VIP membership.  The basic membership does give you some great benefits, but you will not save money on Body Beast with it.  Ti check out the 2 membership levels, CLICK HERE.  It is important to know that if you become a VIP member, you do not just receive a 10% Body Beast Discount, but you also receive 10% off ALL of the Team Beachbody fitness programs.
The 25% Body Beast Discount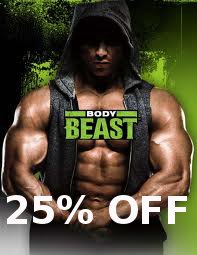 This is the biggest Body Beast Discount available!  Before you read on, it is important to point out that if you take advantage of this discount, you will also receive a 25% discount on ALL of the fitness programs from Beachbody.  That means; P90X, P90X2, Insanity, Les Mills Pump, Tai Cheng and more!  OK, so how does the 25% Body Beast Discount work?  Beachbody has saved the biggest discount for their Team Beachbody Coaches.  Coaches receive 25% off all fitness programs, along with Shakeology.  They also earn very generous commissions by promoting the various Beachbody programs.  It is a chance for anyone interested in fitness, regardless of your experience, education, or even fitness level, to make money by promoting fitness.
How do you know if this is something for you?
 Do you have an interest in making extra money?
 Do you want to get a 25% Body Beast Discount?
Do you want to start changing lives across the US, and around the world?
If you answered yes to ANY of these questions, then visit How To Become A Team Beachbody Coach
If you do not care about a Body Beast Discount, and you just want to simply order the program NOW, CLICK HERE