I had the awesome pleasure of running in the 2012 Virginia Beach Military Challenge.
First things first.  I would like to thank all of our military.  Simply put, You Guys Rock!  As a special "Thank You" from Beachbody, myself, and my fellow Team Beachbody coaches, please visit my MILITARY DISCOUNT PAGE.  Learn how you can receive a 25% discount on P90X, Insanity, Shakeology and more, along with how you can become a Team Beachbody Coach for FREE!
OK, back to the Military Challenge.  This race was a great time, full of fun obstacles, and a lot of great people.  I literally finished the race a little while ago, so my focus right now is food.  I will try to get my official review, along with a lot of pictures up later today.  Be sure to stop back!
2012 Virginia Beach Military Challenge Results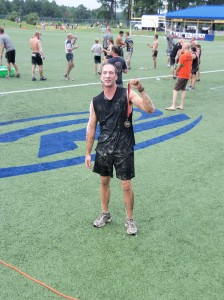 The results of the race have not been posted yet, but they will be available soon.  All that I can tell you now is that a lot of people (including myself) got really muddy.  There were around 1800 competitors, and they all seemed to have a great time.  As soon as the Official Military Challenge Results are available, I will get them posted.
If anybody has any pictures that they would like posted when I get my review up, please shoot me an email at realfitnesswithjoe@gmail.com
I am happy to have been a part of this incredible race.  I have never seen so many people stand so straight during The National Anthem.  It really was a great site to see.  To our military, we can not thank you enough for everything that you do.

Everyone that competed in the Virginia Beach Military Challenge, you did GREAT!  I loved the race, and am already looking forward to next weeks race.
Again, be sure to check back soon for the Virginia Beach Military Challenge Results!